Bean Bulldogs
Champion Sires


Stud Service Available

---
CH. Cherokee Legend Polar Bear



MEX. CH. CHEROKEE LEGEND POLAR BEAR

We are extremely excited to Co-Own Polar Bear! One of the most magnificent looking champion sires we have ever seen, Polar Bear Finished his Championship in Mexico! His conformation, massive bone structure and incredible over done head speaks for itself and absolutely screams Perfection! He is Sired by Hall of fame GCH CH. Cherokee Origin Just Johnny and has a 2nd to none pedigree that is just as impressive!

Email us to inquire about utilizing Polar Bear in your breeding program.
Chilled semen is available to approved Bitches.

Stud Fee $900
Shipping $135 per Shipment




Polar Bear is Co-Owned by Bean Bulldogs.



---
Other Sires Currently in our Breeding Program

Below you will find information on various AKC Champion Sire's Bean Bulldogs is currently using in our Breeding Program. Please note (where applicable) that Bean Bulldogs does not own these Sires. We partner with the Sire's owners and purchase the right to use them with our Dams on
a litter by litter basis. Pictures, descriptive writings and the actual dog are the property of the said owners listed. In some cases these Sire's may be co-owned. Bean Bulldogs assumes no legal liability of ownership or the content of the information List below.

---
AKC Grand Champion


Cherokee Legend Cowboy




AKC Grand Champion Cherokee Legend Cowboy. We are thrilled to have the opportunity and honor to use Cowboy in our breeding program. Cowboy is the winner of back to back 5 point majors from the Puppy Dog Class at the Nationals in his first week in the ring. Cowboy finished his Championship from the Puppy Class and has already won 4 Reserve Bests In Show, 12 Non-Sporting Group Firsts and 19 Bests In Specialty Show. He is Linebred to CH. Cherokee Legend Rock, Cowboy has an incredible pedigree. His parents are GCH. Cherokee Origin Just Johnny and GCH. Delenclos' Bonnie Love.

Cowboy's puppies are just starting their show careers and are winning!

Cowboy is owned and the property of Cody Sickle of Cherokee Bulldogs and Connie Chambers of Legend Bulldogs



CLICK FOR PEDIGREE

---
2011 AKC Champion


CH. Exact Classic Comet




AKC Champion CH. Exact Classic Comet. Comet finished his Championship very quickly in less then 3 months of showing. Huge bone and substance, Comet is a big dog in a small package, heavy bone yet compact size (60 Ib). On top of that Comet is a rare find, A sought after show quality stud that possesses all the qualities required to be a winning Champion and a stud that has lots of wrinkles. Comets pedigree combines and brings together the best of two lines, Millcoats and Cherokee. Two of the top winning lines for the past 30 years in the show ring. He is a son of Westminster Winner and AKC BISS GCH. Millcoats Bach, a Grandson of Hall of fame Champion Cherokee Legend Floyd and a Great Grandson of 3x Westminster winner, the #1 AKC Hall of Fame Champion of all Times, BISS GCH. Cherokee Legend Rock! Comet is throwing exceptional quality, great temperament, healthy, wrinkled puppies with thick legs and heavy bone structure. We are pleased to be able to incorporate Comet into our current breeding program.

Comet is owned and the property of Chad McCarthyCLICK FOR PEDIGREE
---
Israeli Champion Lemonvom Ahora Y Siempre (AKA Robbie)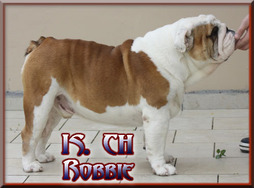 European Champion
Israeli Champion Lemonvom Ahora Y Siempre, or otherwise affectionately known as
Robbie, is the son of the Famous Legendary Ch.Golucan Cole Belthazor from the Lemonvom
show kennel in Hungary. Those who recognize Cole will know that Cole is one of the most awesome producing champion stud dogs alive today. Just a spectacular male that has
thrown some tremendous offspring. Some would argue he is one of the greatest producers
of Champion bulldogs in a long, long time. Robbie was the Israeli Club winner 2011, the
Tel Aviv JWW 2010, a Junior Champion, as well as an Adult Champion.
Robbie is owned and the property of Anthony Dodd
CLICK FOR PEDIGREE
---
---
AKC - Bringing Down The House (House)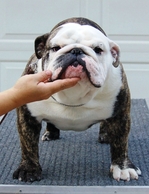 House is a proven stud that is an exemplary specimen to the breed standard. He has a playful, gentle, & proud temperament. House has over 18 AKC champions in 4 generations on the Sires side and 8 AKC Hall of Fame (HOF) Champions in his pedigree. House is Sired by AKC Hall of Fame Champion: CH BISS Cherokee Legend Pretty Boy HOF.
House is Owned and the Property of Bean Bulldogs
Click for Pedigree
---
---